Logitech kit Clavier Souris Cordless Business MK270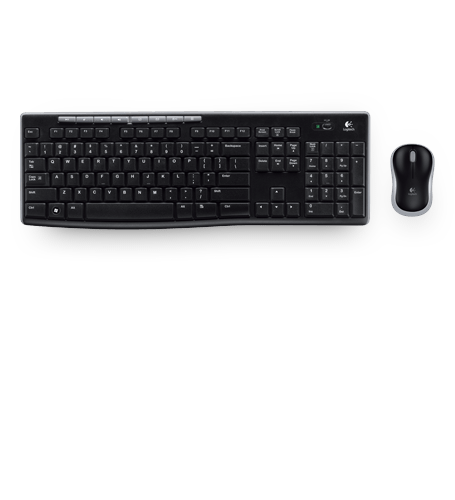 Photo non contractuelle
38,90 €
(Prix T.T.C.)
En stock

Logitech kit Clavier Souris Cordless Business MK270
Advanced 2.4 GHz wireless
So you can work or play in more places—like your comfy couch—the wireless connection virtually eliminates delays, dropouts and interference and gives you a range of up to 10 meters*

Logitech Unifying receiver
The tiny receiver stays in your laptop. Plus, you can easily add a compatible wireless mouse, keyboard or number pad—without the hassle of multiple USB receivers.

Carry-around mouse
You can take the sleek mouse anywhere you take your computer—thanks to its comfortable size and the tiny nano-receiver that stores in the mouse.

Extended battery life
A 24-month keyboard and 12-month mouse battery life—plus on/off switches—mean you can go for months without the hassle of changing batteries.**

Eight hot keys
The things you do most are right at your fingertips with eight hot keys for instant access to your movies, music, Internet, e-mail, play/pause, volume and more.
Change the cursor speed? Change the cursor? Change the programmable buttons? Find out more about SetPoint™ software. >

Full-size, spill-resistant keyboard
The full-size keyboard with number pad, directional keys, and nine F-keys is comfortable, convenient and built to last.
Typing can be tiring. Find out how Logitech helps you get comfortable. Learn more. >

Plug-and-play simplicity
Setup couldn't be easier—you simply plug the wireless receiver into a USB port on your computer and you'll be exploring QQ, shopping on Taobao and searching Baidu right away without software.
descriptif non contractuel
Logitech kit Clavier Souris Cordless Business MK270

Articles de la même famille :



| | | | | | |
| --- | --- | --- | --- | --- | --- |
| | de stock | | | qq pièces de stock | | | épuisé |

Camera IP Eminent E-SmartLife Wi-Fi EM6400

40,50 €

49,00 €

Camera IP WiFi Tp-link Tl-SC2020N

48,76 €

59,00 €

Camera IP WiFi Tp-link TL-SC3430N

40,50 €

49,00 €

Eminent EM6360 CamLine Pro Dome Outdoor 720p

70,25 €

85,00 €

Hikvision DS-2CE16H8T-IT3F

73,55 €

89,00 €

HIKVISION DS-7732NI-I4(B)

519,83 €

629,00 €

Itakat Webcam FHD 1920X1080 avec micro

40,50 €

49,00 €

Logilink Webcam FHD UA0371 avec micro

53,72 €

65,00 €

Logitech HD Pro Webcam C920

81,82 €

99,00 €

Logitech Webcam C270

57,02 €

69,00 €

Ubiquiti Aircam Dome

61,98 €

75,00 €

Wansview Webcam 1080P avec micro

37,19 €

45,00 €

WOOX R4057 Wifi OUtdoor Camera FHD sur batterie

70,25 €

85,00 €
| | | | | | |
| --- | --- | --- | --- | --- | --- |
| | de stock | | | qq pièces de stock | | | épuisé |

ADJ Clavier Filaire TA125 SLIM

13,97 €

16,90 €

Cherry Keyboard KC1000 Business USB Noir

13,97 €

16,90 €

Cherry STRAIT filaire USB

45,37 €

54,90 €

Cherry Stream 3.0 Ultra Flat Clavier USB

18,10 €

21,90 €

Cherry Stream JK-8500BE FLAT Clavier USB

21,40 €

25,90 €

Clavier ADJ platine multimédia Aluminium TW220

26,36 €

31,90 €

Clavier ADJ Premium Multimedia TA150

13,14 €

15,90 €

Clavier ADJ TA601 Essential USB + PS/2

7,36 €

8,90 €

clavier Cherry maxdata PS/2 Blanc

5,70 €

6,90 €

Clavier Techly Silicon enroulable USB

19,00 €

22,99 €

Corsair K55 RGB Gaming Keyboard

56,94 €

68,90 €

Ewent clavier EW3250 USB Eid

24,71 €

29,90 €

Ewent EW3168 Clavier Bluetooth

20,58 €

24,90 €

HP Business Slim N3R87AA

20,58 €

24,90 €

KIT DE NETTOYAGE Perfect Keyboard POUR clavier

4,88 €

5,90 €

Logitech Deluxe Keyboard K120 USB Noir

12,31 €

14,90 €

Logitech Gaming Keyboard G213 Prodigy

56,94 €

68,90 €

Logitech Wireless Keyboard K270

26,03 €

31,50 €

Logitech Wireless MX Keys Noir

95,04 €

115,00 €

Logitech Wireless Touch Keyboard K400

34,30 €

41,50 €

Microsoft Keyboard 600

11,98 €

14,50 €

Pave numerique filaire Nedis

10,66 €

12,90 €

Repose poignet pour clavier Gel Noir Logilin

8,18 €

9,90 €
Joystick - Joypad - Volant

| | | | | | |
| --- | --- | --- | --- | --- | --- |
| | de stock | | | qq pièces de stock | | | épuisé |

Gamepad F310 Logitech

26,36 €

31,90 €
| | | | | | |
| --- | --- | --- | --- | --- | --- |
| | de stock | | | qq pièces de stock | | | épuisé |

ADJ kit Clavier Souris Cordless Essential TW601

16,45 €

19,90 €

Asus kit Clavier Souris w3000 Chiclet Wireless

29,67 €

35,90 €

Logitech Desktop MK120 filaire

19,75 €

23,90 €

Logitech kit Clavier Souris Advanced Combo MK535

42,89 €

51,90 €

Logitech kit Clavier Souris Cordless Business MK220 QWERTY

19,75 €

23,90 €

Logitech kit Clavier Souris Cordless Business MK270

32,15 €

38,90 €

Logitech kit Clavier Souris Cordless Business MK540

52,81 €

63,90 €

Logitech kit Clavier Souris Cordless MK235

28,02 €

33,90 €

Logitech Wireless Desktop MK330

39,59 €

47,90 €

Logitech Wireless Desktop MK710

74,30 €

89,90 €

Microsoft kit Clavier Souris Desktop 400 filaire USB

18,93 €

22,90 €

Microsoft Wireless Desktop 900

36,28 €

43,90 €

Microsoft Wireless Optical Desktop 3050 USB BlueTrack QWERTY

44,55 €

53,90 €
| | | | | | |
| --- | --- | --- | --- | --- | --- |
| | de stock | | | qq pièces de stock | | | épuisé |

ADJ MW391 souris sans fil pour portable

12,81 €

15,50 €

ADJ Optique Mouse M0115 USB

5,70 €

6,90 €

Asus Souris P305 M3 RGB Gaming Mouse

24,71 €

29,90 €

Bakker Evoluent Vertical Wireless Mouse VR4BB

103,31 €

125,00 €

CHERRY JW-T0100 Wireless

20,58 €

24,90 €

EpicGear tapis Hybrid Small

12,31 €

14,90 €

Ewent Illuminated Gaming Mouse 3200 DPI PL3300

18,10 €

21,90 €

Ewent Illuminated Gaming Mouse 4800 DPI PL3301

18,10 €

21,90 €

HP Optique Mouse USB

7,36 €

8,90 €

HP Spectre 500 Bluetooth

32,15 €

38,90 €

HP Z3700 sans fil souris pour portable Red

14,79 €

17,90 €

Inter-Tech souris verticale droitier Eterno KM-206R

16,45 €

19,90 €

Logitech B170 sans fil souris pour portable Noir

14,79 €

17,90 €

Logitech Cordless laser Presenter R400

29,75 €

36,00 €

Logitech G403 Optical Prodigy Gaming Mouse

49,50 €

59,90 €

Logitech laser mouse M500S USB

31,40 €

38,00 €

Logitech M170 sans fil souris pour portable Grise

15,62 €

18,90 €

Logitech M185 sans fil souris pour portable Bleu

15,29 €

18,50 €

Logitech M185 sans fil souris pour portable Grey

15,29 €

18,50 €

Logitech M187 sans fil souris pour portable Black

16,45 €

19,90 €

Logitech M187 sans fil souris pour portable Rouge

16,45 €

19,90 €

Logitech M187 sans fil souris pour portable white

16,45 €

19,90 €

Logitech M190 sans fil souris pour portable Bleu

15,29 €

18,50 €

Logitech M190 sans fil souris pour portable Grey

15,29 €

18,50 €

Logitech M190 sans fil souris pour portable Noir

15,29 €

18,50 €

Logitech M220 Silent Bleu

18,93 €

22,90 €

Logitech M220 Silent rouge

18,93 €

22,90 €

Logitech M235 sans fil souris pour portable Noir

16,45 €

19,90 €

Logitech MX Vertical Black

70,25 €

85,00 €

Logitech Optique Mouse B100 USB

8,18 €

9,90 €

Logitech Optique Mouse M110 Blue Silent USB

12,31 €

14,90 €

Logitech Optique Mouse M110 Gray Silent USB

12,31 €

14,90 €

Logitech Optique Mouse M110 RED Silent USB

12,31 €

14,90 €

Logitech Souris Fusion G402 Hyperion Fury gaming Mouse

49,17 €

59,50 €

Logitech Souris G203 Prodigy gaming Mouse

28,84 €

34,90 €

Logitech Souris G305 gaming Mouse

43,64 €

52,80 €

Logitech Souris Laser G502 HERO RGB gaming Mouse

57,02 €

69,00 €

Logitech Souris Laser G603 Lightspeed Wireless gaming Mouse

55,29 €

66,90 €

Logitech Wireless Mouse M590 silent Bluetooth

36,28 €

43,90 €

MACALLY Mouse DYNAMOUSE-B Noir Black

16,45 €

19,90 €

MACALLY Mouse DYNAMOUSE-B Noir Space gray/Black

16,45 €

19,90 €

MACALLY Mouse DYNAMOUSE-B Noir White/Silver

16,45 €

19,90 €

Microsoft Souris Optique 200 USB Blanche

8,18 €

9,90 €

Nedis Tapis de Souris Gamer 520 x 350 mm

12,31 €

14,90 €

Nedis Tapis de Souris Gamerverre flotté 400x300 mm

15,62 €

18,90 €

Razer Basilisk X HyperSpeed Gaming Mouse Wireless

45,45 €

55,00 €

Repose poignet pour clavier Gel Noir Ewent Ew3180

8,18 €

9,90 €

Souris Genius Wireless Netscroll + Superior Silver (bebat inc)

0,5

16,45 €

19,90 €

Souris sans fil Media-Tech Noire/Gris Argent MT160

0,5

6,12 €

7,40 €

Tapis de Souris 4 mm soft Noir

3,22 €

3,90 €

Tapis de Souris ADJ

2,07 €

2,50 €

Tapis de Souris ADJ/NEDIS avec repose poignet

5,70 €

6,90 €

Tapis de Souris Aerocool Strike-X Fury

11,49 €

13,90 €

Tapis de souris Antistress avec repose poignet Gel Bleu logilink

7,36 €

8,90 €

Tapis de souris Antistress avec repose poignet Gel Gris

7,36 €

8,90 €

Tapis de souris Antistress avec repose poignet Gel Noir Logilink/N

7,36 €

8,90 €

Tapis de souris Boogie Bug AIM B.PAD eXtreme

14,79 €

17,90 €

Tapis de souris Logitech G640

29,75 €

36,00 €

Tapis de souris Logitech G840

36,28 €

43,90 €

Tapis de souris Steelseries QCK gaming

11,49 €

13,90 €

Tapis de souris Steelseries QCK XXL gaming

32,98 €

39,90 €

Trust MaxTrack Mini Mouse black-grey

12,31 €

14,90 €

Trust Souris CrystalWhite

9,83 €

11,90 €

Articles de la même marque :



| | | | | | |
| --- | --- | --- | --- | --- | --- |
| | de stock | | | qq pièces de stock | | | épuisé |

Headset Logitech G432 7.1 Gaming

56,20 €

68,00 €

Headset Logitech G533 DTS 7.1 Gaming

99,17 €

120,00 €

Headset Logitech H150 Blueberry Stereo

14,79 €

17,90 €

Headset Logitech H600 Stereo sans fil

65,29 €

79,00 €

Headset Logitech PC 860 Stereo

10,66 €

12,90 €

Logitech Headset H110

24,71 €

29,90 €

Logitech Headset H340 USB

32,98 €

39,90 €
| | | | | | |
| --- | --- | --- | --- | --- | --- |
| | de stock | | | qq pièces de stock | | | épuisé |

Logitech S120 Noir

15,62 €

18,90 €

Logitech Z130 2.0

25,54 €

30,90 €

Logitech Z200 2.0

34,63 €

41,90 €

Logitech Z213 2.1

29,67 €

35,90 €

Logitech Z313 2.1 25w RMS

37,60 €

45,50 €

| | | | | | |
| --- | --- | --- | --- | --- | --- |
| | de stock | | | qq pièces de stock | | | épuisé |

Logitech Webcam C270

57,02 €

69,00 €
| | | | | | |
| --- | --- | --- | --- | --- | --- |
| | de stock | | | qq pièces de stock | | | épuisé |

Logitech Deluxe Keyboard K120 USB Noir

12,31 €

14,90 €

Logitech Gaming Keyboard G213 Prodigy

56,94 €

68,90 €

Logitech Wireless Keyboard K270

26,03 €

31,50 €

Logitech Wireless Touch Keyboard K400

34,30 €

41,50 €
Joystick - Joypad - Volant

| | | | | | |
| --- | --- | --- | --- | --- | --- |
| | de stock | | | qq pièces de stock | | | épuisé |

Gamepad F310 Logitech

26,36 €

31,90 €
| | | | | | |
| --- | --- | --- | --- | --- | --- |
| | de stock | | | qq pièces de stock | | | épuisé |

Logitech Desktop MK120 filaire

19,75 €

23,90 €

Logitech kit Clavier Souris Advanced Combo MK535

42,89 €

51,90 €

Logitech kit Clavier Souris Cordless Business MK220 QWERTY

19,75 €

23,90 €

Logitech kit Clavier Souris Cordless Business MK270

32,15 €

38,90 €

Logitech kit Clavier Souris Cordless Business MK540

52,81 €

63,90 €

Logitech kit Clavier Souris Cordless MK235

28,02 €

33,90 €

Logitech Wireless Desktop MK330

39,59 €

47,90 €

Logitech Wireless Desktop MK710

74,30 €

89,90 €
| | | | | | |
| --- | --- | --- | --- | --- | --- |
| | de stock | | | qq pièces de stock | | | épuisé |

Logitech B170 sans fil souris pour portable Noir

14,79 €

17,90 €

Logitech Cordless laser Presenter R400

29,75 €

36,00 €

Logitech G403 Optical Prodigy Gaming Mouse

49,50 €

59,90 €

Logitech M170 sans fil souris pour portable Grise

15,62 €

18,90 €

Logitech M185 sans fil souris pour portable Bleu

15,29 €

18,50 €

Logitech M185 sans fil souris pour portable Grey

15,29 €

18,50 €

Logitech M187 sans fil souris pour portable Black

16,45 €

19,90 €

Logitech M187 sans fil souris pour portable Rouge

16,45 €

19,90 €

Logitech M187 sans fil souris pour portable white

16,45 €

19,90 €

Logitech M220 Silent Bleu

18,93 €

22,90 €

Logitech M220 Silent rouge

18,93 €

22,90 €

Logitech M235 sans fil souris pour portable Noir

16,45 €

19,90 €

Logitech Optique Mouse B100 USB

8,18 €

9,90 €

Logitech Souris Fusion G402 Hyperion Fury gaming Mouse

49,17 €

59,50 €

Logitech Souris G305 gaming Mouse

43,64 €

52,80 €

Logitech Souris Laser G502 HERO RGB gaming Mouse

57,02 €

69,00 €

Logitech Souris Laser G603 Lightspeed Wireless gaming Mouse

55,29 €

66,90 €

Le theme de la page :



Logitech kit Clavier Souris Cordless Business MK270 | Logitech kit Clavier Souris Cordless Business | Logitech kit Clavier Souris Cordless | Logitech kit Clavier Souris | Logitech kit Clavier | Logitech kit | kit Clavier Souris Cordless Business MK270 | kit Clavier Souris Cordless Business | kit Clavier Souris Cordless | kit Clavier Souris | kit Clavier | Clavier Souris Cordless Business MK270 | Clavier Souris Cordless Business | Clavier Souris Cordless | Clavier Souris | Souris Cordless Business MK270 | Souris Cordless Business | Souris Cordless | Cordless Business MK270 | Cordless Business | Business MK270 |